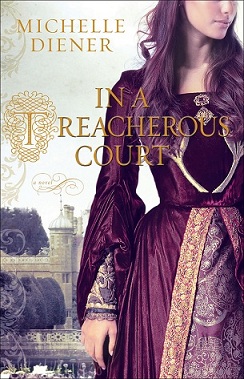 IN A TREACHEROUS COURT by Michelle Diener (Gallery Books, 2nd August 2011)
Book 1 in the Susanna Horenbout & John Parker series
Available at these online stores and good independent bookstores everywhere:
Amazon | Barnes & Noble | Bookdepository | iBooks | KOBO | Rosemary's Bookshop | Simon & Schuster | IndieBound | Target | Temptation Books
About In a Treacherous Court:
Henry VIII's most lethal courtier and his newly appointed artist become the only thing keeping him on the throne – and if they survive, neither will ever be the same.
John Parker is one of Henry VIII most useful courtiers — utterly merciless and completely loyal. But one small favour for his King will pull Parker into a deadly plot against the throne, one that will test his courage, his resolve, and most especially, his heart.
A commission from Henry VIII should have been the crowning achievement of Susanna Horenbout's career, but before the beautiful and talented artist even sets foot in England, she finds herself in possession of a secret that could change its history. With Parker as her only protection against killers who will stop at nothing to silence her, Susanna has to trust the dangerous, enigmatic courtier. She's used to fighting in a man's world, but she never expected to be fighting for her life.
Other books in the Susanna Horenbout & John Parker series: Keeper of the King's Secrets | In Defense of the Queen
For an interview with Michelle Diener on IN A TREACHEROUS COURT:
What people are saying about IN A TREACHEROUS COURT:
"IN A TREACHEROUS COURT is an action-adventure-mystery-historical that grabs the reader on page one and doesn't let go. It reminds me of SHAKESPEARE IN LOVE in the way it captures the "feel" of Tudor England, moving with equal aplomb from royal palace to refuse-clogged London street to leaky rowboat on the Thames." Kate Emerson (Author of BY ROYAL DECREE: Secrets of the Tudor Court)
With its richly detailed historical setting and intrigue-filled plot, "In a Treacherous Court" is simply irresistible. Chicago Tribune
"Awesome! History woven flawlessly into riveting fiction." Tammy J. Schneider (Special Features Editor and book reviewer at Affaire de Coeur Magazine)
"Just when readers think there is nothing new to be learned about Henry VIII, debut author Diener delivers a taut suspense . . . that will keep you turning the pages." Kathe Robin (4 star review in RT Magazine August 2011 issue)
"A masterfully spun tale of mystery, intrigue, and the inner workings of Henry's court!" Fresh Fiction
Social Book Sites: