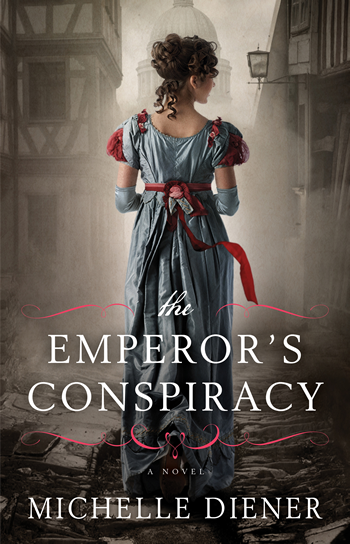 THE EMPEROR'S CONSPIRACY by Michelle Diener
(Gallery Books, November 27, 2012)
Available for Purchase:
Amazon | Barnes & Noble | Book Depository | IndieBound | iBooks | KOBO | Simon & Schuster
About The Emperor's Conspiracy:
Set in early nineteenth-century England, this vivid and romantic historical novel goes from the most elegant ballrooms of London to the city's most tawdry slums, as a spirited young woman helps unravel a plot by Napoleon to bleed England of all its gold.
Through good fortune, Charlotte Raven escaped the poverty of the London slums and is now an educated, wealthy Society lady. But she lives between two worlds, unable to completely turn her back on her old life—specifically Luke, her childhood protector and now a ruthless London crime lord.
When Lord Edward Durnham is asked to investigate the alarming movement of gold out of England, his search leads him to London, and his recent acquaintance with Charlotte affords him access to a dark world he barely knew existed. As they delve deeper into the underbelly of London, danger lurks at every turn, and Charlotte must navigate between her two worlds to save England.
And soon she faces a defining choice: to continue in the familiar limbo she's lived in for years, or to take a painful and risky leap toward a happiness she never thought possible.
Other books in the Regency London series: Banquet of Lies | A Dangerous Madness
What reviewers are saying:
An Excellent Library: "This Regency-era historical fiction novel reminded me of Pride and Prejudice — which, believe me, is a good thing — if Elizabeth Bennet had a secret past and Mr. Darcy were a spy."
New Books On My Shelves: "An historical fiction with plots as finely woven as a spider's web."
Publishers Weekly: "Diener (Keeper of the King's Secrets) delivers a rousing read …"
Author's note:
The Emperor's Conspiracy is connected to Banquet of Lies and A Dangerous Madness, although, like the other two, can be read as a standalone novel.
LONDON, 1811: London during the Regency period was a dangerous place. Crime was rampant, and there was no real police force. Britain was at war with Napoleon, and more and more injured, angry men were coming back from the British campaigns on the Continent disillusioned with their country and bitter at their treatment.
While the rich nobles danced at their balls or went hunting at their country estates, the poor of London's rookeries fought for survival in the gutter.
This period has always fascinated me, with its massive contrasts. Where there are such steep disparities there is conflict and action – in other words, there is a great story, waiting to be told.
If you're interested in some of the background I used to write about life on the London streets in the 19th Century, you can read this article I wrote for Writer Unboxed.
Social Book Sites: