Keeper of the King's Secrets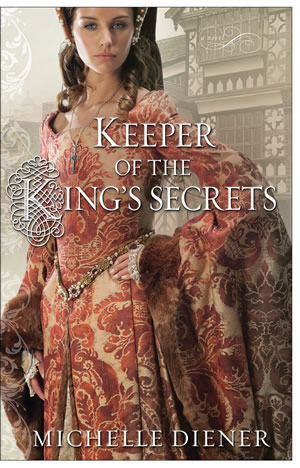 KEEPER OF THE KING'S SECRETS by Michelle Diener (Gallery Books, 3rd April, 2012)
Book 2 in the Susanna Horenbout & John Parker series
Available at these online stores and good independent bookstores everywhere:
All Romance Books | amazon | Barnes & Noble | Books A Million | Bookdepository | IndieBound | iTunes | KOBO | Rosemary's Bookshop | Simon & Schuster | Sony Ebooks | Target | Tempatations
About Keeper of the King's Secrets:
Susanna Horenbout's chance meeting with a jeweler from Antwerp pulls her and her betrothed, courtier John Parker, into a deadly plot against the King. Ever since Henry VIII's sister Mary gave him the spectacular Mirror of Naples, part of the French Crown Jewels, the King of France has been plotting to get it back.
After the French king is captured in battle, the secret deal struck for the jewel's return is in jeopardy—and French agents in London are taking matters into their own hands. But the powerful Duke of Norfolk has caught wind of the secret deal and sees the planned theft as an opportunity to rid himself of a hated rival at court—even if it means plunging England into an unwinnable war with France.
As Susanna and John Parker desperately search for the jewel, trying to stay one step ahead of the French, they're swept into a power struggle with men who will crush any obstacle to get what they want. And with the fate of a nation in the balance, they must figure out where the Mirror of Naples is hidden—before it's too late..
Back cover copy:
A priceless jewel. A royal court rife with intrigue. A secret deal, where the price of truth could come too high . . .
The personal artist to King Henry Tudor, Susanna Horenbout is sought by the queen and ladies of the court for her delicate, skilled portraits. But now someone from her past is pulling her into a duplicitous game where the consequence of failure is war. Soon, Susanna and her betrothed, the King's most dangerous courtier, are unraveling a plot that would shatter Europe. And at the heart of it is a magnificent missing diamond. . . .
With John Parker at her side, Susanna searches for the diamond and those responsible for its theft, their every step dogged by a lethal assassin. Finding the truth means plunging into the heart of the court's most bitter infighting, surviving the harrowing labyrinth of Fleet Prison—and then coming face-to-face with the most dangerous enemy of all.
What reviewers are saying:
Diener's writing style is beautiful, to the point, vivid and exciting. This author is one to watch if you love the likes of Philippa Gregory or Anne Easter Smith. The characters are going to hook you first, and the intrigue will keep you turning the pages. Reader's Entertainment
Keeper offers a compelling, page-turning mystery packed with unexpected twists and turns, solid prose, always-fascinating court intrigue, and a unique story that feels like a classic mystery wrapped in a Tudor setting. Book Addict Diary
Social Book Sites: