Dangerous Sanctuary: A short story featuring Susanna Horenbout and John Parker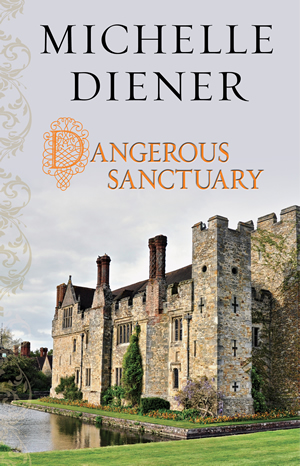 DANGEROUS SANCTUARY by Michelle Diener (Gallery Books, 6th March, 2012)
Book 1.5 in the Susanna Horenbout and John Parker series
About Dangerous Sanctuary:
Artist Susanna Horenbout is commissioned by Henry VIII to paint a picture of the ceremony in St. Paul's Cathedral to commemorate the capture of the French king, Francis I, in battle, and to give thanks for the death, in the same battle, of Richard de la Pole, the last serious rival to the throne of England.
While Susanna is working on a sketch, just before the ceremony is about to start, she witnesses a strange meeting between two men, and soon realizes she might be the only one who can stop an attack on the King without causing a blood bath.
With Parker caught up in the out-of-control crowds on the streets as the King makes his way to the cathedral, Susanna finds herself weighing the balance between social order and a man's life.
DANGEROUS SANCTUARY is a short story set between IN A TREACHEROUS COURT, the first novel featuring Susanna Horenbout and John Parker, and KEEPER OF THE KING'S SECRETS, the second novel also featuring Susanna and Parker.
Buy Dangerous Sanctuary at these ebook stores:
Amazon | Barnes & Noble | iBooks | KOBO | Simon & Schuster
Social Book Sites: