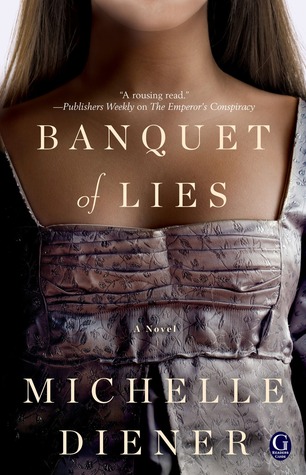 BANQUET OF LIES by Michelle Diener (Gallery Books, October 22nd, 2013)
Available for purchase:
Amazon | Barnes & Noble | Bookdepository | Books A Million | Indiebound | iBooks | KOBO | Simon & Schuster
About Banquet of Lies:
A SECRET TREATY AND A SECRET LIFE
REGENCY LONDON: Giselle Barrington is living a double life, juggling the duties of chef with those of spy-catcher. She must identify her father's savage killer before the shadowy man finds her and uncovers the explosive political document her father entrusted to her safekeeping.
Posing as a French cook in the home of Lord Aldridge, Giselle is surrounded by unlikely allies and vicious enemies. In the London streets where she once walked freely among polite society, she now hides in plain sight, learning the hard lessons of class distinction and negotiating the delicate balance between servant and master.
Lord Aldridge's insatiable curiosity about his mysterious new chef blurs the line between civic duty and outright desire. Carefully watching Giselle's every move, he undertakes a mission to figure out who she really is—and in the process, plunges her straight into the heart of danger when her only hope for survival was to remain invisible.
Other books in the Regency London series: The Emperor's Conspiracy | A Dangerous Madness
What reviewers are saying:
"Diener enlivens history." —RT Book Reviews
"An enormous talent!" —Affaire de Coeur
"Diener has set a standard for what good historical fiction ought to be." —Luxury Reading
"lovely, intriguing and well-written . . . delectable." Words & Stitches
"A thrilling mystery and delicious romance." Fresh Fiction
Some full reviews of Banquet of Lies:
Historical Novel Society
Fresh Fiction
Caffeinated Book Reviewer
Words & Stitches
Bookfever
Nocturnal Book Reviews
RT Book Reviews
The Maiden's Court
Unabridged Chick
New Age Mama
So Many Reads
Book Babe
Colorimetry
Peeking Between the Pages
The Demon Librarian
Some interviews about the book:
XOXO After Dark
Books For Life
Unabridged Chick